Vaccination Clinics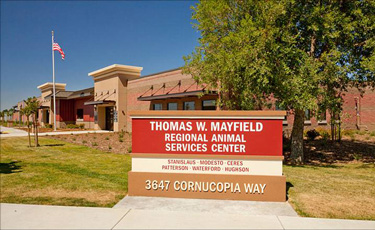 All Drive through Vaccination clinics are by appointment ONLY.
Clinics are held Saturdays ONLY, 9-11 am at the Thomas W. Mayfield Regional Animal Services Center located at:
3647 Cornucopia Way
Modesto, CA 95358
Clinic Map
A Rabies vaccination is required by law and is required to purchase a dog license.
All dogs on leashes
Animal owner must be present (over 18) with valid CA ID
Fees - must be paid with credit card or debit card

Rabies vaccination $10
Distemper - Parvo vaccination $10
Bordetella $10
Microchip $20
Enter the vaccination clinic at Service Road and Cornucopia Way. Remain in the car. Staff will provide instructions at the time of vaccination.
NOTE: Service will not be provided for dogs not on a leash, displaying aggressive behavior or not in control by their owners. Vaccinations will only be provided to pets with a scheduled appointment. One appointment per dog.
For more information please call (209) 558-PETS